Ohio State Professor Frederick Luis Aldama is enriching views of arts and culture one incredible lecture at a time.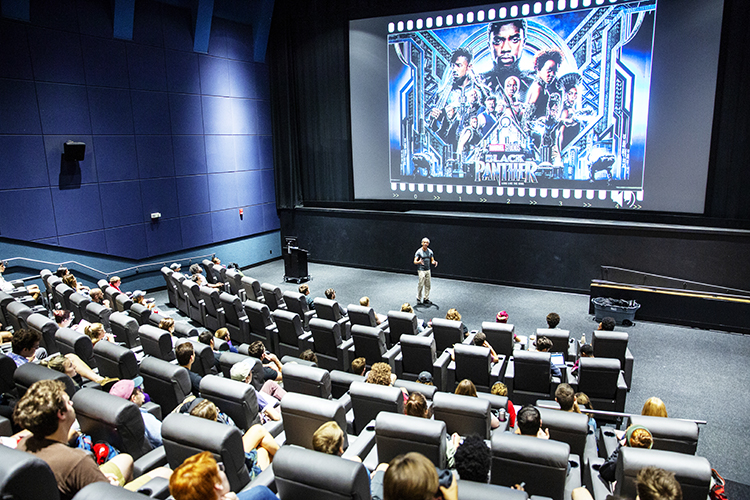 Ohio State faculty member Frederick Luis Aldama talks to his students about the need for more diversity in comics.
Frederick Luis Aldama has been teaching undergraduates since his arrival at Ohio State in 2005. He leads First Year Seminars, introductory courses, elective courses and honors classes. Aldama will tell you: He loves to teach.
"It's the only thing I ask for each year — to teach undergraduates," he said.
Aldama's passion for education is inspired in large part by his mother, a teacher herself.
The idea of college was remote for the Latino boy growing up in California, but Aldama's single mom worked hard to open doors for her son. Though she died young of cancer, her efforts led Aldama to the University of California, Berkeley, where he earned his undergraduate degree in English, and to Stanford University for his PhD.
"I know how education doors slam shut on Latinxs in this country," he said. "I am constantly aware of the importance of and the responsibility to open the doors of learning for others."
Among Aldama's courses are Introduction to Latino Stories, Latino Popular Culture for the Clueless and Global Sci-Fi: Race, Class, Disability, and Sexuality. This semester he's adding a new online course, World Comics. In his teaching and research, Aldama uses the tools of narrative theory and cognitive science to enrich students' understanding of literature, art, music, film, video games and comic books.
"One way or another, in every lecture I give, I want students to think about cultural phenomena from a different point of view," Aldama said. "Students in my classes learn how we imagine, artistically create and materially transform the world in which we live."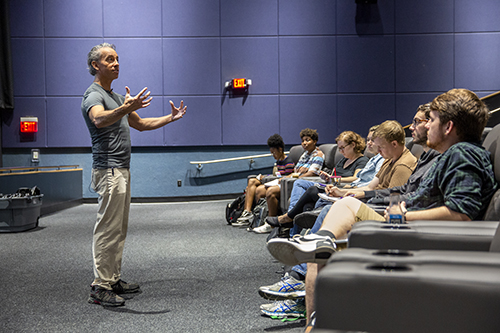 Ohio State faculty member Frederick Luis Aldama earned an Eisner Award for his book Latinx Superheroes in Mainstream Comics.
Student impact
Stefania Torres-Grisales, a second-year major in psychology and Spanish, was a LASER mentee while a senior in high school. Aldama is why she enrolled at Ohio State.
Torres-Grisales said she and Aldama share the same goal of helping and making a positive impact in the Latinx community. She is now a volunteer with LASER and a team leader for the Humanities and Cognitive Sciences High School Summer Institute.
"Even before I met him in person, I emailed Professor Aldama and he was genuinely kind and interested in my future plans — that was incredible because as a student going into college, you're a bit intimidated," Torres-Grisales said. "Professor Aldama made it easy."
Transfer student Zachary Dean took Aldama's Film & Comics course, and the experience altered both the direction of his studies and his future.
"I believe that one of the most important qualities for an educator to possess is the ability to inspire," Dean said. "Professor Aldama has that quality in spades. You feel like you're dissecting a movie/comic/TV show/book with your best friend who's a brilliant, top-of-their-field college professor. His intellect and other positive qualities made it very easy for me to change my focus for graduate school to the field of comic studies."
Darius Gainer, a second-year undergraduate majoring in communication, has taken three of Aldama's classes and is completing his first book, Black Representation in the World of Animation. He credits Aldama with inspiring his writing.
"No other instructor has left as much of a personal and intellectual impact on my life as Professor Aldama," Gainer said. "There was something both compelling and deeply resonant about his lectures that moved, challenged and inspired my engagement with the course content."
"Dr. Aldama's class tapped into my personal and intellectual spirit; he transformed my worldview on what it means to exist among modern society as a minority and, as a result, the concept of Black Representation was born."